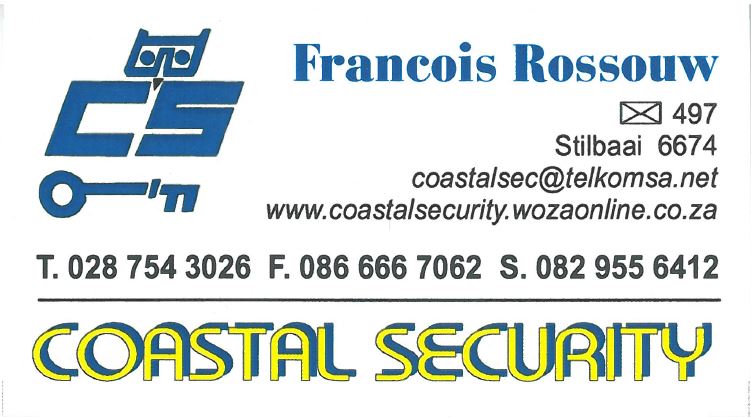 Coastal Security (Alarms and Armed Response, Installing and monitering of CCTV Cameras, Sekuriteit, Burglar Proofing, Gewapende veiligheid reaksie, Kameras en Diefwering)
Coastal Security / Sekuriteit Stilbaai
Security company in Still Bay for home security, alarm monitoring as well as rapid armed response. Huis-sekuriteitsbesigheid vir huisbeveiliging, alarmmonitering en vinnige gewapende reaksie.
Coastal Security exists since 1996 and has since grown into the biggest security company in Still Bay. Their control room is in Still Bay, thus there will be no delay in their response to your need or emergency. They specialise in providing security such as 24/7/365 monitoring of alarms, armed response as well as safekeeping of holiday home keys.
Coastal Security Technical Services
In the first place they do alarm installations which could be:
– A one button stand alone panic system
– A GSM (Global System for Mobile Communications) panic activation via cellphone with Google map location
– A home and business alarm system including interior as well as exterior intrusion
detection
– An IP (Internet Protocol) Solutions and GSM Solutions (which means the alarm system gets controlled via smart-phone application (Pocket Secure) – arm, disarm as well as view specific zone conditions)
In the second place they do installation of garage door motors
As well as gate-motor installations

Likewise intercom installations
Also installation of CCTV camera systems
And, finally, they install transparent burglar bars

Coastal Security Products
All their products are of the highest quality, tested in the industry and, equally important, installed by experienced technicians. Their products include:
Paradox Security Systems who are manufacturers of a range of top quality motion detectors, alarm panels, keypads as well as peripheral equipment
Permaconn which is their flagship solution and operates on GPRS (General Packet Radio Service), 3G (Third Generation) as well as IP (Internet Protocol) networks
Dahua technology which is the trusted brand worldwide for CCTV application
Francois Rossouw
Tel: 028 754 3026
Cell: 082 955 6412
Fax: 086 666 7062
E-mail: This email address is being protected from spambots. You need JavaScript enabled to view it.This email address is being protected from spambots. You need JavaScript enabled to view it.">
3 Perdekuil Ave
Stilbaai-West
6674
For more info,click here.