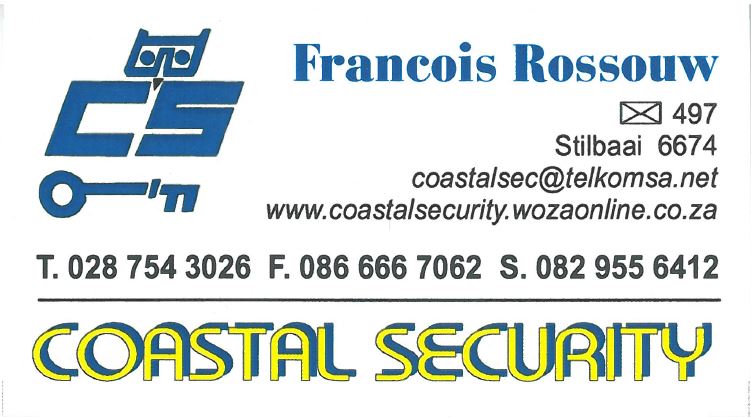 Coastal Security / Sekuriteit Stilbaai ( Alarms and Armed Response, Installing and monitering of CCTV Cameras, Sekuriteit, Burglar Proofing, Gewapende veiligheid reaksie, Kameras installeer en moniteer en Diefwering)
We provide 24/7 Monitoring, Armed response service. For alarm installation and CCTV installation as well as safe keeping of holiday homes keys. We also supply and install garage motors and gate motors. We sell remote controls. Let us help you with an intercom system or install transparent burglar bars.
Coastal Sekuritiet Vir Sekuritiet in Stilbaai en Jongensfontein
Gewapende veiligheid reaksie en alarm monitering. Verskaf en installeer alarms en veiligheids kameras. CCTV monitering.
Ons verskaf 'n 24/7 moniterings en gewapende reaksie diens.Installeer alarm en CCTV (Kameras) stelsels.Ons verskaf en installeer ook motorhuisdeur motors sowel as hekmotors en afstandbeheerders. Vir alle interkom stelsels sowel as deursigtige diefwering skakel ons direk.
Francois Rossouw
Tel: 028 754 3026
Cell: 082 955 6412
Fax: 086 666 7062
E-mail: This email address is being protected from spambots. You need JavaScript enabled to view it.
For more info,click here.