Ratelrug Game Camp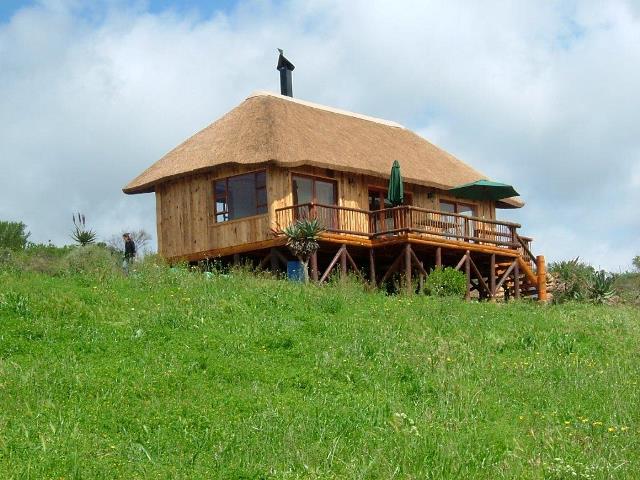 Ratelrug Game Camp (B & B, Accommodation, Verblyf, Over night, Bed and Breakfast, Garden Route)
Welcome to Ratelrug Game Camp at Riversdale on the Garden Route! Experience the tranquil countryside at its best …..
Silence is Golden! Come and enjoy peace and tranquility in our game camp with exquisite views. The quite relaxed atmosphere is ideally for that much needed break away and fill your mind and body with the surrounding elements of nature.
ACCOMMODATION
View Sleeping Beauty, a mountain peak in the Langeberg mountain range and various antelope species from your stoep or even your bed. View bird species such as our national bird the Blue Crane, as well as the Secretary bird. Also watch the the various animals drink water from the natural ground dam in front of the chalet. The different antelope species are kudu, zebra, black wildebeest, springbuck, red hartebeest, bontebok and smaller species. The landscape is hilly with renosterveld and aloes. The low lying parts are overgrown with thorn tress. In spring the various veld flowers splash their colour in abundance!
Ratelrug offers a rustic fully equipped self-catering log cabin. The en-suite main bedroom has a queen size bed and the other en-suite bedroom two single beds. Both bathrooms have a shower. The kitchenette is fully equipped and there is an indoor braai facility.
The game camp is surrounded by farms where farming activities take place. Sightseeing can be organised.
DIRECTIONS
7km from the N2 on the Vermaaklikheid Road (gravel road). Turn right at the first right hand turn off on Divisional Road 1558.
S34º 07' 30.79" E 21º 11' 31.60"
CONTACT
Mobile: 0824670124
E-mail: This email address is being protected from spambots. You need JavaScript enabled to view it.
Ratelrug Game Camp
PO Box 368
Riversdale
6670
RATELRUG WILDSKAMP
Welkom by die Ratelrug Wildskamp by Riversdal op die Tuinroete! Ervaar die rustigheid van die natuur op sy beste ……
"Silence is Golden!" Verlustig jou in die rus en vrede van ons wildskamp met sy pragtige uitsig. Die ontspanne atmosfeer bied gaste 'n welkome blaaskans, asook geleentheid om liggaam en siel te verkwik in die rustigheid van die omliggende natuurskoon.
VERBLYF
Geniet die uitsig op die 'Sleeping Beauty' bergpiek wat deel uitmaak van die Langeberg bergreeks of hou die verskeie boksoorte dop wat rustig in die veld wei – dit alles vanaf jou stoep, of selfs jou bed. Besigtig verskillende voëlsoorte soos ons nasionale voël, die Bloukraanvoël, asook die Sekretarisvoël. Kyk oook hoe die verskeie diere water drink by die natuurlike gronddam voor die chalet. Boksoorte wat voorkom is koedoe, sebra, swart wildebees, springbok, rooi hartebees, bontebok en kleiner boksoorte. Die landskap is heuwelagtig met renosterveld en aalwyne. Die laagliggende dele is begroei met doringbome. In die lente word die omgewing omskep in 'n kleurfees van al die veldblomme in hulle volle glorie.
Ratelrug bied 'n aardse, ten volle toegeruste selfsorg houthuis. Die hoofslaapkamer het 'n koningin grootte bed en sy eie badkamer. Die tweede slaapkamer het twee enkelbeddens en sy eie badkamer. Beide badkamers het storte in. Die oopplan kombuis is ten volle toegerus. Daar is ook 'n binne braai fasiliteit.
Die wildskamp word omring deur plase waar boerdery aktiwiteite plaasvind. Besigtiging kan gereël word.
AANWYSINGS
7km vanaf die N2 op die Vermaaklikheidpad (grondpad). Draai regs by die eerste afdraai aan jou regterkant op Distrikspad 1558.
S34º 07' 30.79" E 21º 11' 31.60"
KONTAK
Selfoon: 0824670124
E-pos: This email address is being protected from spambots. You need JavaScript enabled to view it.
Ratelrug Wildskamp
Posbus 368
Riversdal
6670