Ghian's Steakhouse, BBQ & Grillhouse in Stilbaai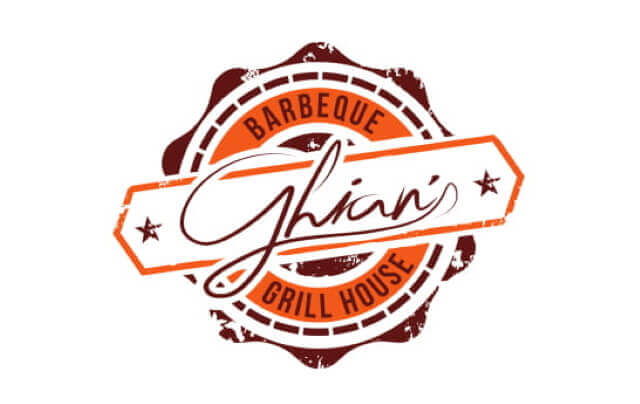 Ghian's Steakhouse, BBQ & Grillhouse in Stilbaai - Ghian's Restaurant in Still Bay
Ghian's BBQ & Grill House brings Southern Style barbecue to Still Bay and serving dinner, breakfast and lunch. It is situated in the Fynbos Centre next to Main Road West. Ghian's menu includes a wide selection of mouth-watering dishes spanning from breakfast to dinner. The Grill House opened its doors on 21 November 2019 and is fast becoming one of the most popular places to eat in Stilbaai.Cell: 061 546 9784
The unplastered walls combined with the naked light bulbs hanging from the high ceiling, the wooden tables and chairs as well as the rough wood-finish around the bar counter turns this restaurant into a typical American cowboy ranch.
'Lekker' atmosphere, friendly and homey with excellent food which the grill masters prepare in the open kitchen. With an atmosphere of comradely, excellent food prepared in the open kitchen, as well as a selection of delicious wines, this restaurant promises excellence with every visit.
Seating at Ghian's BBQ & Grill House
This Southern Style steakhouse is small and can seat a little over 40 people at one sitting. Making a reservation is highly recommended, due to the restaurant's size and popularity.
Save time and effort and simply make use of their online booking system.
Where to Eat Breakfast in Still Bay
Ghian's Barbecue & Grill House serves Breakfast from 09:00 to 11:00.
Master Ghian's breakfast menu offers a number of breakfast choices opening with muesli and yoghurt served in his special way. Bacon and egg breakfasts dishes are also served, prepared in various ways with extras, resulting in smaller or larger meals. Furthermore he offers a Banting breakfast as well as two-egg omelettes with a choice of filling.
Where to Eat Lunch in Stilbaai
Ghian's BBQ & Grill House serves Lunch from 11:30 to 16:00.
Master Ghian's lunch menu kicks off with starters such as Tortillas, mushrooms, chicken wings and a platter of cold meats, etc. for two people. You can also enjoy a refreshing glass of wine with your meal.
For mains there is a choice of various meat types such as chicken, pork and selected beef cuts char grilled. Also burgers made from 200g beef patties or chicken fillets. Enjoy building your own burger with special sauces and many extras. An assortment of salads as well as various scrumptious desserts is available to top off the meal.
Where to Eat Dinner in Stilbaai – Ghian's Steakhouse in Stilbaai
Ghian's Texan barbecue style steakhouse serves Dinner from 18:00 – 21:00.
Master Ghian's dinner menu is more diverse than the lunch menu, but equally delicious. Kicking off with starters such as snails, mushrooms, springbok Carpaccio, (thin slices of raw meat served with a sauce), mussels and many more.
The mains dishes take 45 minutes to prepare. You have a wide variety of meat choices such as fillet, rib-eye, espetades of beef skewer, chicken, pork loin ribs as well as Eisbein with a variety of sides and sauces. Furthermore there is the lamb pot of the day and selected beef cuts char grilled to perfection with a side of your choice. Likewise you can have a burger with a 200g pure beef patty of chicken fillet which you can build with extras and sauces like avocado, bacon, pineapple, etc. There is a wide variety of different wines to complete a beautiful meal. To add to all of this, they offer a variety of salads and to round off the meals there is also a decadent choice of desserts.
Kiddies Meals at Ghian's BBQ & Grill House
Master Ghian has a menu for the Kiddies as well which they serve throughout the day. The bacon and egg breakfast is served until 11:00. For the rest of the day they can have food such as macaroni and cheese, chicken strips, fish fingers and chicken burger. For dessert there is vanilla ice cream with a choice of sauce.
Ghian's BBQ & Grill House in a Nutshell
Air-conditioning

Banting breakfast

Kiddies menu and child friendly atmosphere

Credit card facilities

Free parking in parking area of the centre

Grill Masters

Informal dress code

Licensed to serve wine

Open kitchen

Online booking available – reservations are important

Serves dinner, lunch as well as breakfast

Southern Style Grill House

Texan Style Barbecue

Waiting service
Ghian's Steakhouse Restaurant in die Fynbossentrum in Stilbaai
Restaurant wat ontbyt, middagetes en aandetes aanbied. Hierdie ongelooflike eetplek het op 21 November 2019 sy deure oopgemaak en is vinnig besig om een van die gewildste restuarante in Stilbaaie te word.
As jy die Texaanse styl restaurant betree, voel jy asof jy op 'n Amerikaanse beesplaas beland het. Die hoë plafon met die kaal gloeilampe wat aan lang drade van die dak afhang gepaard met die ongepleisterde mure skep `n regte 'cowboy' effek. Voeg daarby die houttafels en stoele, die ruwe houtafwerking om die kroegtoonbank en die prente van die cowboys in aksie teen die mure vir `n ongelooflike ervaring. Die gemoedelike atmosfeer en die mondwatergeur van braaivleis uit die oop kombuis – alles spreek van beesplaas en braaivleis.
Hulle is gelisensieer om wyn en sterkdrank te bedien waarvan hulle 'n gawe seleksie uitsoekwyne beskikbaar maak. Soos jy uitgaan teen die muur is 'n groot swartbord waar jy gerus 'n opmerking kan laat.
Sitplek by Ghian's BBQ & Grill House
Hierdie Southern-styl restaurant is klein en kan net so 'n ietsie oor die veertig mense op 'n slag hanteer. Alhoewel hulle hulle uiterste bes doen om instapkliënte te akkommodeer waar enigsins moontlik, raai hulle jou vriendelik aan om plek te bespreek. So kan jy seker maak dat jy nie honger moet omdraai nie.
Spaar tyd en moeite en maak sommer gebruik van hulle aanlyn bespreking.
Waar kan jy Ontbyt Eet in Stilbaai?
Ontbyt by Ghian's BBQ & Grill House word bedien van 09:00 tot 11:00
Meester Ghian se ontbytspyskaart bied jou verskeie ontbytkeuses. Verwag `n unieke muesli-en-jogurtkombinasie wat hy op sy spesiale manier voorsit. Spek-en-eierkombinasie word op verskillende maniere en met byvoeging of weglating van ekstra bestanddele voorberei. Verder bied hy ook 'n Bantingontbyt en so ook twee-eier omelette met 'n vulsel van jou keuse.
Waar kan jy Middagete Eet in Stilbaai?
Ghian's Barbecue & Grill House bedien middagete van 11:30 tot 16:00.
Meester Ghian se middagetespyskaart begin met voorgeregte soos sampioene, hoendervlerkies, Tortillas, en selfs 'n twee-persoon bord met koue vleise, kaas en so meer. En moenie vergeet van hulle uitgesoekte wyne wat jy saam met jou maaltyd kan geniet nie.
As hoofgangdis kan jy kies uit 'n verskeidenheid vleissoorte soos hoender, vark en uitgesoekte beessnitte wat geskroeibraai word. Of jy kan 'n burger kies met 200 g bees of hoenderfilet en dit self verder bou met ekstras en souse soos avokadopeer, pynappel en so meer. Daar is ook 'n verskeidenheid slaaie op die spyskaart en so ook heerlike nageregte om die ete mee af te sluit.
Waar kan jy Aandete eet in Stilbaai?
Aandete by Ghian's se Texaanse braaivleisrestaurant word bedien van 18:00 – 21:00.
Om dinge mee aft e spring kan besoeker voorgeregte soos sampioene, slakke, mossels, springbok carpaccio (dun repies rou vleis met 'n sousie) verwag, gepaar met `n heerlike glasie wyn uit `n wye verskeidenheid.
Die hoofgangetes neem so 45 minute om voor te berei, maar is elke sekonde se wag werd. Verwag `n wye verskeidenheid vleiskeuses, ondermeer filet, espetades of beessosaties, hoender, varkribbes en Eisbein met 'n verskeidenheid sydisse en souse. Verder is daar 'n lamspot van die dag en geselekteerde beessnitte wat geskroeibraai word tot perfeksie met 'n sydis van jou keuse. Hierdie unieke restaurant gee jou ook die opsie om jou eie burger te bou deur `n 200 g beesvleis of hoender filet kies en en dit te paar met ekstras en souse soos avokado, spek, pynappel, ens. Om al die disse aan te vul, is daar ook verskeie slaaie en smullende nageregte om van te kies.
Kindervriendelike Eetplek in Stilbaai
Die restaurant is kindervriendelik, en bied `n spesiale spyskaart aan vir die jong klomp. 'n Lekker spek en eierontbyt word tot 11:00 bedien. Vir die res van die dag kan kos soos macaroni en kaas, hoenderrepies, visvingers, hoenderburgers en so meer bestel word. Kinders kan vir nagereg roomys met verskillende souse verwag.
Ghian's BBQ and Grill House in 'n Neutedop
Banting-ontbyt

Aandete, middagete en ontbyt word bedien

Aanlyn bespreking is moontlik, en besprekings word sterk aanbeveel

Top Braaimeesters

Gelisensieer om wyn te bedien

Gratis parkering in die parkeerarea van die sentrum

Informele kleredrag

Puik Kelnerdiens

Spesiale spyskaart vir kinders

Kredietkaartfasiliteite

Restaurant met Lugversorging

Oop kombuis

Beste Biefstuk in die Texiaanse styl in Stilbaai
Shop 14 Fynbos Centre
Main Road West
Still Bay
Cell: 061 546 9784