Dolfyn Sweiswerke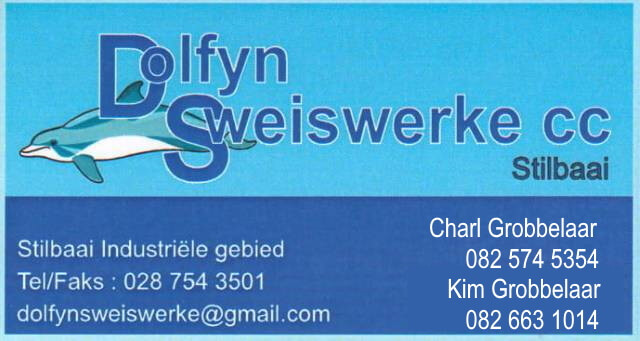 Dolfyn Sweiswerke (Steelworks, Stainless Steel all Welding, Building and repairing of Trailers, Steel Gates & Fencing, Burglar proofing, Alle Staalwerk en Vlekvryestaal. Bou en herstel van Sleepwaens, Vervaardig Veiligheidshekke en diefwering )
Welders in Still Bay doing a variety of steelworks such as the manufacturing, building and repairing of steel structures. Working with steel as well as stainless steel, they do all kinds of welding including decorative steelwork and general reparations.
Steelwork and welding at Dolfyn Sweiswerke - Dolfyn Staalwerke
The welders at Dolfyn Welding manufacture and erect steel constructions such as carports, frames for carports with sun-filter roofs as well as billboards of all sizes. Furthermore they manufacture plain and decorative railings and balustrades for steps, balconies, and swimming pools.
Steel Gates, Balustrades, Railings and Burgklar Proofing.
Also plain as well as decorative security gates and doors as well as burglar proofing. Likewise they make palisade fencing with sliding steel gates.
Galvanising, Powder Coating and Stainless Steelwok in Stilbaai
They send their products for galvanisation as well as powder coating. Galvanisation is the process of melting a zinc layer into the metal to prevent rust and corrosion. During the powder coating process the product gets its colour such as white, black, bronze, etc.
Fix and build Trailers
In addition they specialise in building as well as repairing trailers. Their trailers are of course all registered with the South African Bureau of Standards (SABS)
Dolfyn Sweiswerke is of course in the Industrial area on the eastern side of the Goukou River in Still Bay.
Office: 028 754 3501
Charl Grobbelaar
Cell: 082 574 5354
Kim Grobbelaar
Cell: 082 663 1014
This email address is being protected from spambots. You need JavaScript enabled to view it.
For more ,click here.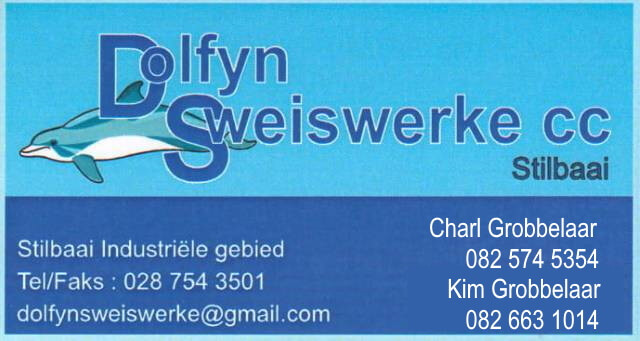 Workshop 5
Stilbaai Butchery Building
Steadfray Ave
Stilbaai Industrial
Stilbaai
6674