Hanlie's Bistro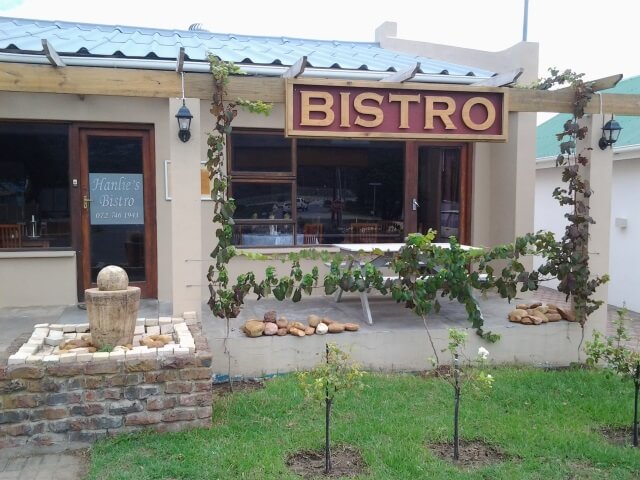 Hanlie's Bistro and Fine Dine Restaurant in Stilbaai.
Hanlie is committed to quality gourmet food and innovative dishes. Stilbaai's top restaurant allocated just before the Stilbaai Bridge is well known for some of the best Rump Steak, Chateaubriand steak, Lamb shank or Oxtail in the area. Just to name but a few of the delicious dishes on the menu. They also serve special seafood dishes like, snoek samoosas, their famous mussel chowder and off course, delicious praws. Being a licensed restaurant, you can choose great wines from the wine list that will complement whatever dish you enjoying.
Remember to book and dont forget to order their - Freshly Baked Pies
Hanlie's Bistro en Restaurant in Stilbaai
Kom geniet keurigvoorbereide geregte en heerlike wyne vanaf die wynlys wat elke dis komplimenteer. Geniet van die beste Chateaubriand biefstuk, kruisskyf, lamskenkels of beesstert in Stilbaai of Jongensfontein. Natuurlik kan jy ook spesiale seekosdisse geniet soos hulle bekende snoeksamoesas en steurgarnale. Moet ook nie van die gewilde mosselbredie vergeet nie.
Onthou om te bespreek.
Cnr Main Rd West and Waterblom Str (at the Stilbaai Bridge)
Stilbaai
6674
Hanlie Lubbe
Tel : 072 746 1943
Cell : 083 400 5797
This email address is being protected from spambots. You need JavaScript enabled to view it.
For more info, click here.