Coffee & Cream Coffee Shop & Restaurant Stilbaai
Coffee & Cream Coffee Shop & Restaurant in Stilbaai - Coffee & Cream Koffiewinkel en Restaurant
"A journey of elevation into a perfect balance between style, enticing ambience and homemade cuisine. Enjoy a countryside breakfast, quality lunches and home-baked patisserie and cake. Moreover, share this delightful journey with others with a delectable takeaway from our choice freshly-baked treats."
Coffee & Cream sits cosily on the corner of Kerk (Church) and Keurboom Streets in Still Bay, a pleasant coastal town in the Western Cape along the famous Garden Route. Their unpretentious, but fetching décor and unobtrusive but cordial waiting staff make for a most pleasing experience. The neat uniformity of the white chef-like tops embroidered with the name and logo on the back, together with the white and blue aprons, sooth the eyes and mind.
The distinctive bicycle-logo and name appear on the table numbers, the serviettes and the place-mats. Also on the little round name plates worn by the waiters, somehow succeeding in creating a discreet order in the typical bustle of a Coffee Shop. Even the little pots with simple fynbos bouquets and delicate salt and pepper sets further accentuate the unpretentious, but skilful elegance.
Food and Drink at Coffee & Cream Coffee Shop & Restaurant
The Coffee & Cream Coffee Shop & Restaurant offers breakfast (including a Banting breakfast) as well as light lunches. They also offer beautifully presented sweet things such as lemon meringue in little glass bottles, cheese cake, carrot cake and apple crumble.
You have a choice to be seated inside or outside under the blue umbrellas with a fig tree on the side. When it is cold and wet outside, you might rather sit inside what with the warm, inviting fire in the fireplace. You will see a menu on the wall written by hand, advertising the specials of the day. The menu is quite limited, but completely sufficient for this type of establishment. That allows for perfect preparation and presentation of the dishes on the menu.
Some of the dishes on offer are spinach and feta quiche or sun-dried tomato and bacon quiche with salad or chips. Also one portion of lamb pie baked in its own little dish and served with chips or salad. They make use of pitted olives in their salad which solves the problem of sitting with olive pits in your mouth! Furthermore of course they serve wraps, salads and burgers rounded off with a cold or hot beverage of your choice.
Coffee & Cream Coffee Shop & Restaurant will not be a coffee shop without their 100% Arabica coffee from Lavazza Tierra – a premium coffee (no blend) which is 'very delicate on the tongue' (to quote their Coffee Specialist)
All their food items can be made into takeaways, except for those baked in glass containers such as the lemon meringue and lamb pie. Your takeaway is packaged in a green biodegradable and compostable container which will not harm the environment.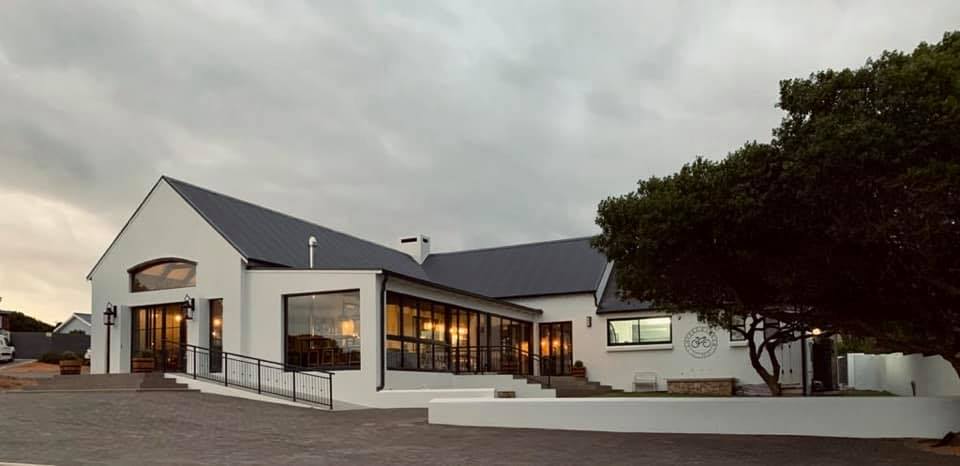 Important Information about Coffee & Cream Coffee Shop & Restaurant
Free Wi-Free
Free parking available
Clean restroom available
Inside and outside seating
Waiter service
Children welcome
Good for groups
Informal dress
Wheelchair friendly
Fireplace inside
Credit card facilities
Sit-down and also Takeaways

Coffee & Cream Koffiewinkel en Restaurant in Stilbaai
'n Stylvolle koffiewinkel/restaurant op die Dorpsplein in Stilbaai in the Weskaap op die mooie Tuinroete. Hulle bedien heerlike ontbyt (ook 'n Banting ontbyt), kwaliteit ligte etes, en so ook tuisgebakte koek en ander gebak.
Daar is sitplek binne en so ook buite onder groot blou sambrele. Op die muur is die spesiale aanbiedings van die dag met die hand geskryf. Die spyskaart is redelik beperk wat dit makliker maak om hulle disse perfek voor te berei en op te dis. Hulle maak hulle slaai met ontpitte olywe wat die probleem van pitte in jou mond oplos.
Hierdie koffiewinkel maak gebruik van 100% Arabica-koffie van Lavazza Tierra. Dis 'n premium koffie wat 'baie delikaat op die tong' is, volgens hulle Koffie Spesialis.
Al hulle disse wat nie in hulle eie houers gebak is nie, soos die suurlemoenmeringue in die glasbotteltjie, kan verpak word om weg te neem. Hiervoor gebruik hulle biodegradeerbare houers wat omgewingsvriendelik is.
Ida Prinsloo
Corner of Kerk and Keurboom Streets
Stilbaai
Tel: 028 754 1412
Cel: 072 263 5330