Still Bay Adventures - Stilbaai Avonture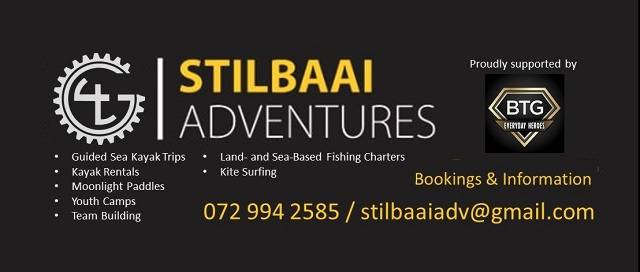 Still Bay Adventures - Stilbaai Avonture
Things to do or activities in Stilbaai. Stilbaai Adventures for all your adventure needs in Stilbaai, Jongensfontein and throughout the Explorers Garden Route. We have a qualified guide that will take you on sea kayak trips, moonlight paddling and provide youth camps and great team building programs.
No experience needed. Contact us for kayak rentals, land or rock fishing and sea based fishing charters, kite surfing and more.
Sea Kayaking, Kayak Rentals, Guided Sea Kayak trips, Youth Camps and Team building, Moonlight Paddles, Land & Sea Based Fishing Charters, Kite Surfing
Eugene
Cell: 072 994 2585
At the"Lapskuit"
Waterkant Street
Still Bay West
Still Bay