Die Wilde Haf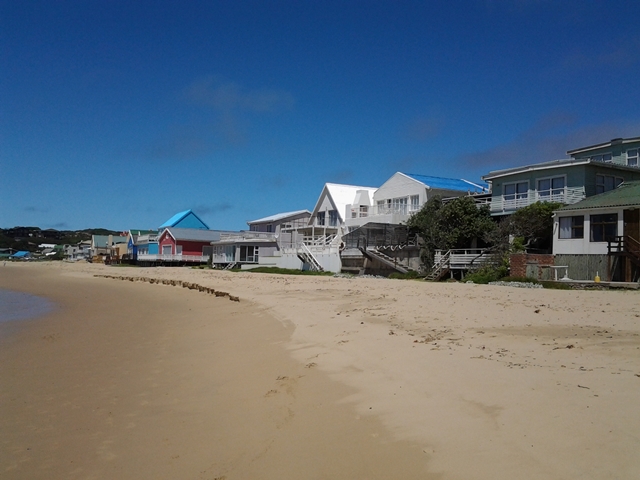 Die Wilde Haf (Accommodation, Self-Catering, Holiday Home, Place to Stay,On Main Beach, Akkommodasie, Selfsorg, Vakansiehuis, Hoofstrand)
Die Wilde Haf Beach House
is on the Stilbaai West Beach, walk out of the house and unto the beach. Come and stay in this Historic house that forms part of this Picturesque Beachfront.
Die Wilde Haf is a true beach house, sitting with its toes literally in the sand. This spacious timber-frame home which can accommodate 14 people in 5 rooms, is situated right on the western shoreline of Stilbaai, a friendly seaside town in the Southern Cape.
We invite you to come and enjoy it in its unique location as a romantic getaway, or as a holiday spot for the entire family.
This gull's eye view timber-frame home is situated right on the western shoreline of Stilbaai, a smallish seaside town in the Southern Cape. The location is remote enough to be a getaway experience, yet developed enough to offer all necessary amenities and facilities. Shops, banks, restaurants, golf and tennis – all within a 10 minute drive.
The house was named Die Wilde Haf (Wild Ocean)
by the Hiemstra family because of their Frisian origin. The Frisian term for the North Sea is wild ocean (Wilde Haf), an ever-present element in the northern Netherlands. The Indian Ocean is every bit as close here, but not as cold or as wild!
The house comprises two levels, with two of the bedrooms, the living area and the lower deck all facing the bay, affording uninterrupted views of the ocean, the unspoilt beach, river mouth, and small fishing harbour. Stilbaai is in fact perfect for every kind of water activity, due to the shallowness of the bay, the very extensive sandy beach and the lagoon estuary of the Goukou River. Swimming, sunbathing, surfing, angling, walking, every kind of boating, waterskiing, bird watching, golf, and more, may be undertaken to one's heart's content.
Die Wilde Haf
The accommodation is simple, practical, and spacious. Upstairs, there are five bedrooms (two with double bed), an open dormitory-style room with two double bunk beds, and a bathroom with bath, basin and toilet. Bedlinen is provided but guests have to bring their own towels.
The living area is downstairs, comprising open-plan lounge/dining room, guest toilet, and partially open-plan kitchen with adjacent laundry/scullery.
On the rear deck there is an enclosed bathroom with shower and basin. An additional single room has its own outside entrance and a bathroom en-suite comprising shower, basin and toilet. There is also a cold shower outside for rinsing off sand and sea-water.
The house
is very open and airy, yet is private enough for sunbathing or simply relaxing in privacy. From the living area, large sliding doors open out onto a balcony from where one can appreciate the early morning sunrise or afternoon tranquility. The lower deck is almost level with the sand, and at high tide the wavelets are within a few metres. Here, one may sunbathe, sit and relax, or dine al fresco.
The kitchen is spacious and well-equipped. Appliances include a dishwasher, tumble-dryer, semi-automatic washing machine, 4-plate stove with conventional oven, a microwave, large fridge, chest freezer, the usual smaller appliances (kettle, toaster, etc.), and crockery and cutlery. Cleaning staff are available by arrangement with the letting agent.
In true South African tradition, the rear deck is ideally suited to a braai (barbecue), and looks out over the quaint neighbouring houses and towards the river estuary. The double garage has space for two vehicles, and also for beach "toys" – windsurfers, surfboards, surf skis, and the like. So come and relax here in comfort and real beach house style.
On the Beach Stilbaai West.
Stilbaai
6674
For more info, gallery and enquiry form please visit our Website - Click here.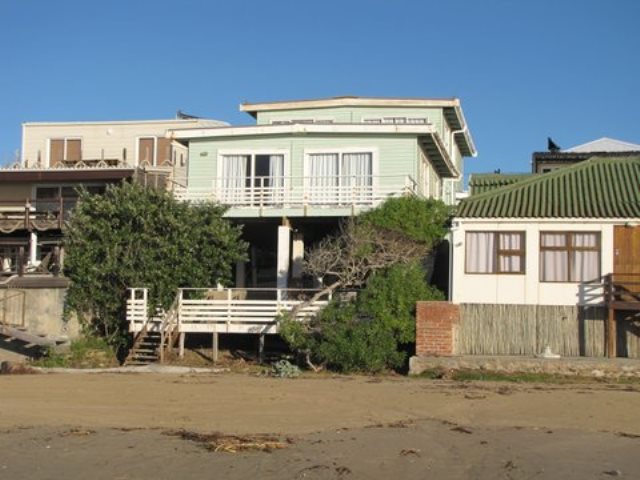 Die Wilde Haf - is on the Stilbaai West Beach, walk out of the house and unto the beach. Come and stay in this Historic house that forms part of this Pictures Beachfront.
Beach House
5 Rooms
Beds 15
Sleeps 15
Please Enquire by Phone or E mail.