Sleeping Beauty Traders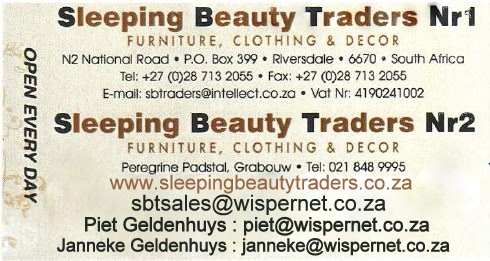 Sleeping Beauty Traders (Beach House Furniture, White Wash Furniture, Gifts, Décor, Jewelry, Furniture, Ladies Clothing, Persian Carpets, Oudhede, Kandelare, Damesklere, Skoene, Persiesematte, Breekware, Geskenke, Juweliersware, Meubels )
Sleeping Beauty Traders Riversdal Geskenke,Glasware en Kinder Speelgoed. Handsakke en Leeritems, Kombuis benodighede, kandelare en Ligte, Juweliersware, Meubels en Oudhede.Verskeidenheid Damesklere, Skoene, Persiesematte ook Beach House Meubels baie Breekware.
Sleeping Beauty Traders Riversdale for . Arts & Crafts, Crockery & Kids Toys lots off Shoes, Handbags, Glassware, Kitchen Ware and Chandeliers and Beautifull Antiques.Gifts, Décor, Jewelry and Furniture variety of Ladies Clothing, Persian Carpets, Beach House Furniture and White Wash Furniture.Gifts,Decor and Furniture in Hessequa the Southern Cape on The Explorers Garden Route.
On N2 National Road (Highway) just outside Riversdale on Route to Mosselbay.
Bali and Van Splinter Tot Sinker Building
Riversdale
6670
Piet & Janneke Geldenhuys
Tel : 028 713 2055
E Mail: This email address is being protected from spambots. You need JavaScript enabled to view it.
This email address is being protected from spambots. You need JavaScript enabled to view it.
This email address is being protected from spambots. You need JavaScript enabled to view it.This email address is being protected from spambots. You need JavaScript enabled to view it.">
For more info, click here.