CJ Konstruksie / CJ Construction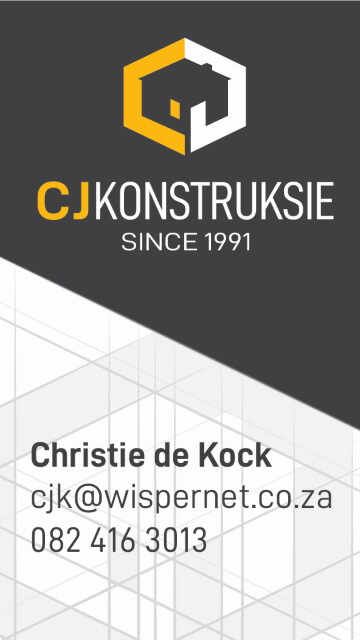 CJ Konstruksie / CJ Construction - Builders in Stilbaai and Jongensfontein
Start building since 1991 - 30 years of experience.
General Builder of private houses and stores on, and in the vicinity of, the Garden route.
Any Restoration and renovations done in Stilbaai & Jongensfontein.No work too big or too small.
Work includes the building of new houses and stores as well as any extension, renovation or restoration of existing homes.
CJ Bouers in Stilbaai
Bouers reeds vanaf 1991 - 30 jaar ondervinding.
Algemene Bouers in Stilbaai van privaat huise, geboue en store, en in die omgewing van, die Tuinroete.
Werk sluit die bou van nuwe huise en store in, asook enige uitbreiding, opknapping of restourasie van bestaande huise en geboue.
Geen werk te groot of te klein nie.
Christie de Kock
Cell: 0824163013
E mail: This email address is being protected from spambots. You need JavaScript enabled to view it.
Please have a look at some of the Quality Houses Built by CJ Construction over the years.