Stilbaai Kwekery / Nursery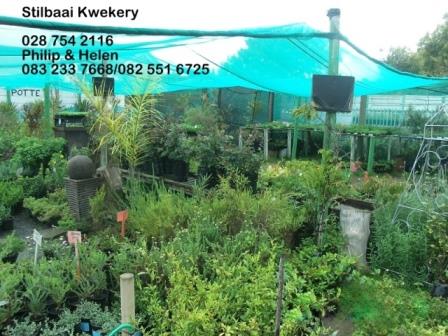 Stilbaai Kwekery
(Nursery and Landscaping, Lawn & Synthetic or artificial grass. Sell plants, flowers pots and Trees.Tuin en Landbou Besproeing, Plaveisel bou Klipmure en Houtheinings, Tuinuitleg verkoop Plante en Bome sowel as verskaf en lê van grasperke en kunsgras. )
For all your cladding and building of stone brick walls and braais. Designing Gardens and paving. The design and layout of gardens. Landscape architect, irrigation and the layout of gardens. Artificial grass or synthetic grass lawns. selling of plants, trees, pots and stones. Compost, potting soil and pebbles. Supply and install Wooden fences and wooden decks or any wooden structures.
Stilbaai Kwekery en Teetuin
Verkoop van plante, bome, kompos. potgrond en tuinbenodighede. Vir tuinuitleg en besproeiing in Stilbaai en Jongensfontein. Die bou van klipkonstruksies soos braaiers en klipmure. Alle plaveisel sowel as die bou van enige houtkonstruksie, trappe, houtheinings of houtafdakke. Verskaf en lê van kunsgras sowel as enige grasperke, lawn.
C/o Main Rd-West & Waterblom Str
Just by the Bridge
Stilbaai
6674
Philip & Helen Fouche
Tel: 028 754 2116
Cell: 083 233 7668/082 551 6725
E mail: This email address is being protected from spambots. You need JavaScript enabled to view it.gmail.com