Rosemary Décor and Clothing Shed
Rosemary Décor and Clothing Shed - Rosemary Dekor en Damesklerewinkel in Stilbaai
For beautiful house décor, furniture and elegant ladies fashion look no further than Still Bay's hidden gem, Rosemary Décor & Clothing Shed. This exclusive clothing and décor shop forms part of House of Sarah Lifestyle Centre, along with the florist and nursery, Violette, the Vanilla Tea Garden and the pizza shop, Oregano, that is currently under development.

Rosemary offers a wide range of products including Velvet furniture, numerous home decorations and furniture on order. They also repair, restore and upholster furniture. Their wide range of clothing also include exclusive designs from Le Riche Design, Iconic Design and their own Italian silk range. A perfect shop for all your décor and clothing needs.
Elegant Ladies Clothing

Le Riche Designs
In George you can find Le Riche Designs, owned by the fabulously talented Lizel le Riche Spies. She is renowned for her colourful, nostalgic designs, using dazzling colours to form unique and magnificent patterns. Rosemary supplies some of Le Riche's fabulous clothes and they are must haves for your closet!

Iconic Designs
Buying all of the fabrics they use overseas, Iconic Designs pride themselves on excellent quality products. Located in Cape Town Iconic Designs preserves the uniqueness of their products by only producing a few items using the same design. Using bold, vibrant prints and colourful designs they produce stunning summer tops, wrap dresses, tunics, colourful leggings, summer dresses and jumpsuits. They also boasts long sleeved tops and long dresses, so you can be fashionable whatever the weather.

Italian Silk Range
Rosemary also offers blouses, tunics and dresses made from the sheerest, finest Italian silk. This range of beautiful clothing comes in plain colours or in elegant flowery themes. Feel and look like royalty as the soft silk caress your skin while wearing one of these flowing, luxurious silk garments.

Rosemary Dekor en Damesklerewinkel in Stilbaai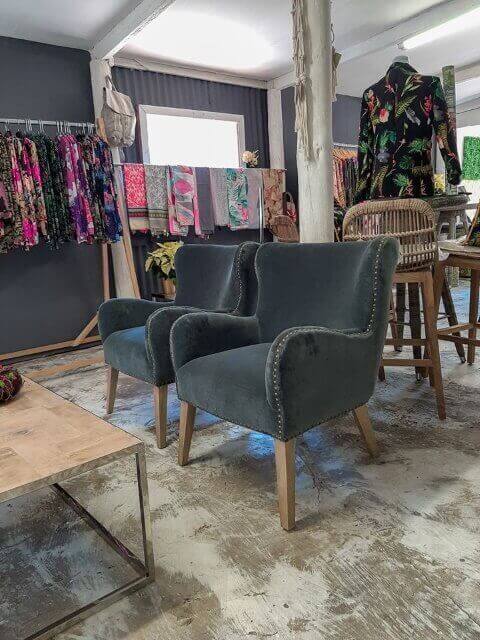 Rosemary is deel van die House of Sarah Lifestyle Centre, geleë oorkant die indraai na Palinggat. Hierdie meubels, damesklere- en dekorwinkel spog met eksklusiewe damesklere, pragtige fluweel meubels en verskeie ander huisdekor.
Hulle verskaf slegs topgehalte kwaliteit produkte, en spog met handelsnaamklere – Le Riche Designs, Iconic Designs sowel as hulle Italiaanse sy reek. Vir 'n kans om jou huis en jouself op te kikker kom besoek hierdie unieke Stilbaai juweel.

Eksklusiewe Damesklere
Le Riche Designs
In George kan 'n mens die eksklusiewe kledingstukke van Liezl le Riche Spies in haar pragtige winkel, Le Riche Designs, vind. Hierdie kunstenaar ontwerp en maak kleurvolle en unieke taberds met asemrowende patrone. 'n Le Riche skepping draai koppe en gee jou die kans om die wêreld jou stylvolle, opwindende self te wys.

Iconic Designs
Met unieke materiaal wat slegs oorsee gekoop word spog Iconic Designs in Kaapstad met asem-wegslaan ontwerpe. Hulle gebruik elke ontwerp slegs 'n paar keer om te verseker dat elke kledingstuk sy uniekheid behou. Deur gebruik te maak van helder, treffende patrone en skitterende kleure ontwerp hulle pragtige klere.
Hulle verskaf 'n wye verdkeidenheid klere, insluitende somerstoppies, katpakke, somersrokke, tunieke, rompe, sonrokkies, langrokke sowel as kleurvolle kleefpypbroeke. Daar is ook linne toppies en langbroeke, asook sensasionale syerige serpe.

Italianse Sy Reeks
Rosemary verkoop ook 'n verskeidenheid klere wat uit die beste Italiaanse sy gemaak is. Hierdie sjiek skeppings kom in effekleurige of blommerige motiewe. Rokke, tunieke en bloese laat jou soos 'n prinses lyk, terwyl die sensasie van delikate sy op jou vel jou soos een laat voel.
Sarlise Du Toit
Cell: 082 849 4241
Email us here
Main Road West
Stilbaai
6674