Die Houtplek Stilbaai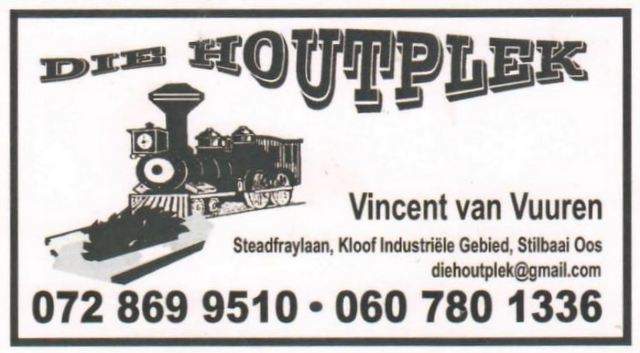 Die Houtplek Stilbaai

For all your woodwork and carpentry needs in Stilbaai. They are situated in Still Bay in the Hessequa region. These woodworkers offer excellent services, using only the finest wood and pride themselves on delivering quality products. Specializing in woodwork or carpentry, offering a range of services – from house renovations to your wooden products, this is your wood one-stop-shop.

With compeditive prices, quality work and an immaculate work ethic, they are a proud example of Still Bay's service industry. Even though they are located in Stilbaai, they offer their services to surrounding areas, like Jongensfontein, Riversdale and Melkhoutfontein. Every customer can expect extraordinary customer service, as well as excellent workmanship. Because of this they are highly praised and recommended by everyone who had enjoyed their services.

Die Houtplek Stilbaai tackles any wood related job, including:

• Built-in cupboards, ranging from kitchen cupboards, clothing or bedroom cupboards and even your bathroom cabinets
• Custom-built furniture, including built-in bookcases, desks, whitewashed furniture, TV stands, etc.
• Home improvements, revamping kitchens, replacing cupboards and designing and building your dream study
• Wooden stairs and beautiful wooden railings
• Custom made wooden decks as well as custom made wooden bar-counters are especially praised

They also pride themselves on assisting customers by:

• Offering advice on market products
• Cutting wood to specific measurements
• Sharing their knowledge on carpentry

Die Houtplek Stilbaai only uses quality wood, offering a wide range of different timber. They also supply and manafacture Melamine cupboards in various colours and styles. They install counter-tops made from marble, granite and Ceaserstone quartz. The choices, products and services offered by Die Houtplek are endless. Visit today and find your perfect wooden solution!
Die Houtplek Stilbaai – vir uitstekende diens en kwaliteit Houtprodukte

Skrynwerkers van top gehalte is gewoonlik moeilik om te vind, maar nie in Stilbaai nie! Gaan loer in by Die Houtplek vir al jou houtwerk behoeftes. Die besigheid spog met uitmuntende kwaliteit produkte, vakmanskap en kliëntediens.

Of jy 'n houtdek, spesiale soliede houtkroeg, houttrappe of reëlings benodig, help hulle jou in 'n oogwink. Produkte soos ingeboude kaste, ingeboude boekrakke, losstaande kaste of tafels en pragtige lessenaars word ook aangebied. Verder kan 'n kliënt sommer 'n hele vertrek laat oordoen, of dit nou 'n kombuis, badkamer of slaapkamer is.

Met kompenteerde pryse, vriendelike diens en net die beste kwaliteit houtwerk.
Die Houtplek bied diens en produkte soos:

• Kombuis-kaste
• Ingeboude-kaste
• Badkamer-kaste
• Houtdekke
• Houtreëlings of Houthekke
• Houttrappe
• Spesiale vervaardige Houtwerke en houtmeubels
• Ens, ens, ens
Vincent van Vuuren
Cell: 072 869 9510
060 780 1336
This email address is being protected from spambots. You need JavaScript enabled to view it.
Steadfraylaan
Kloof Industrial Area
Stilbaai East