EV Skips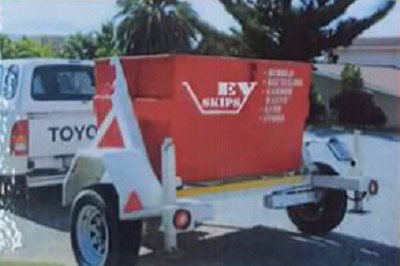 EV Skips Stilbaai
EV Skips vir Bou rommel, Tuin vuillis in Stilbaai
Hulle verwyder enige soort rommel soos bourommel, tuinafval, huisvullis en so ook afval op openbare plekke soos parke. In Stilbaai, 'n kusdorpie in die Hessequagebied in die Weskaap op die mooie Tuinroete.
Vra EV Skips om een van hulle rooi skips te kom parkeer daar waar jy breek en bou, of jou tuin onder bedwang probeer kry. So ook daar waar jy jou garage 'n slag uitpak en al die opgegaarde goed wil weggooi maar nie weet hoe en waar nie. Maak net die skip vol en hulle kom maak jou probleem hulle s'n. Maklik man, maklik!
Hulle parkeer hulle skips enige plek waar daar rommel, afval of vuillis is. By woonhuise, boupersele, parke, behuisingskomplekse en so ook kommersiële eiendomme, selfs in landelike gebiede soos plase en kleinhoewes.
Verder vervoer hulle ook bousand en bouklip in kleiner hoeveelhede. Hou op sukkel en kry vir jou 'n rooi skip, vandag nog!

A company in Still Bay which is serious about waste – building waste, garden waste, residential waste as well as public waste. They will remove any rubble, rubbish, refuse and garbage in their bright red skips for hire. Simply let them drop a red one, you fill it up with your rubbish, and they make it disappear. A no worry, no fuss way of getting rid of that pile of useless junk that has been hurting the eye for so long.
EV Skips is in Still Bay, Jongensfontein, Melkhoutfontein, a coastal area in the Hessequa area in the Western Cape along the ever beautiful Garden Route.
Remove Building Rubble
You might be extending your house, or renovating a bathroom or kitchen, or both, and you need to get rid of all the building rubble. All the old tiling, flooring, rotten cupboards or broken pieces of cement, concrete as well as damaged bricks. Also broken windows, frames, taps, plumbing ware such as toilets, washing basins, baths, etc. The possibilities are endless. Simply call for a skip, load the rubble into the skip and make your problem their problem.
Garden Waste
Summer is a time of growth, the gardens are lush and the bushes and trees and lawns get out of hand with the joy of summer. And, alas, so does the weed... Call EV Skips in Still Bay to park one of their skips at your house. Simply dump all the garden waste, dead flowers, weed, cut off branches, grass, etc. in the skip and watch your problem vanishing down the road.
Residential/Public Waste
Once in a while everyone needs to clean out a garage or storeroom, throwing out stuff which cannot be removed by the local municipality's refuge removal lorries. Many of us like hoarding stuff for a rainy day, but that rainy day has never appeared, and now you need to unclutter your house.
You might be moving house and need to get rid of all useless, rusted and broken things you were planning on fixing one day. Many of us know the feeling of having to move to a smaller house. And yet a smaller house as we are advancing in years.
The red skips of EV Skips in Still Bay can be placed virtually anywhere. All you need, is rubbish to get rid of! At residential properties, building sites, parks, housing complexes as well as commercial properties. Even in rural areas such as farms and small holdings.
Transport of Building Sand and Building Stone
Needing only a small load of building sand or building stone but not knowing how to transport that? EV Skips also transports smaller quantities of building sand as well as building stone to your house or building site. Call the red one today!
Eugene Visagie
Cell: 082 337 3322
082 337 3325