Jade's Store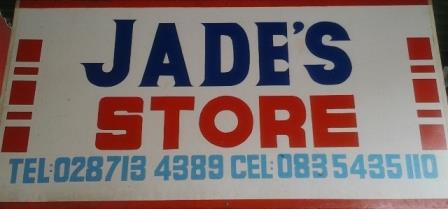 Jade's Store (Clothes, Toys, Cellphone acc, Household and Car Radios & DvD's, Shoes, General store, Speelgoed, Klere en Skoene, Radios en DVD spelers ook selfoon benodighede)
A general store in Riversdale dealing in clothing, foot-wear, cell phones, electronic appliances, toys as well as other household items.
Mens, Ladies and Childrens Clothing
Jade's Store is a general store dealing in various general items such as clothes. Pants and shirts for men, dresses and under-wear for women and also clothing for boys and girls. They also carry men's foot-wear, ladies' foot-wear and children's shoes, as well as accessories like handbags to complete a lady's outfit.
Cellphone accessories, Radios, Televisions and Electronic appliances
In addition, they sell electronic appliances like radios and car radios, as well as DVD-players and televisions. And of course the ever-present cell phones and cell phone accessories.
Household items
They also carry various different everyday household items, not to mention toys for children.
This general store operates in Riversdale in the Western Cape, in the Hessequa area along the Garden Route.
34 Church Str
Riversdale
6670
Guy Kopa
Tel: 028 713 4389
Cell: 083 543 5110
E mail: This email address is being protected from spambots. You need JavaScript enabled to view it.