Boumag Bou van Staalkonstruksies en Fabrieke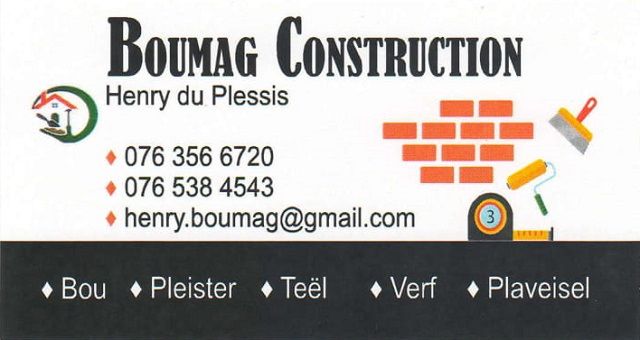 Boumag Bou van Staalkonstruksies en Fabrieke - Boumag Building of Steel Structures and Factories
The building and construction of small and large steel structures, factories or buildings. Building of sheds, hangers or factory workshops. Building of new houses.
All restoration or renovation work.
Tiling

Paving

Painting of buildings and steel structures.
Bou van alle staalstrukture een fabrieke. Bou plaasskure, geboue en werkswinkels.
Alle restorasie, opknapings en aanbou van geboue en staalstrukture.
Alle verfwerk
Teëlwerk
Plaveisel
Henry du Plessis (NHBRC reg)
Cell: 076 538 4543
Cell: 076 356 6720
This email address is being protected from spambots. You need JavaScript enabled to view it.