Tuinroete Wyn Boutique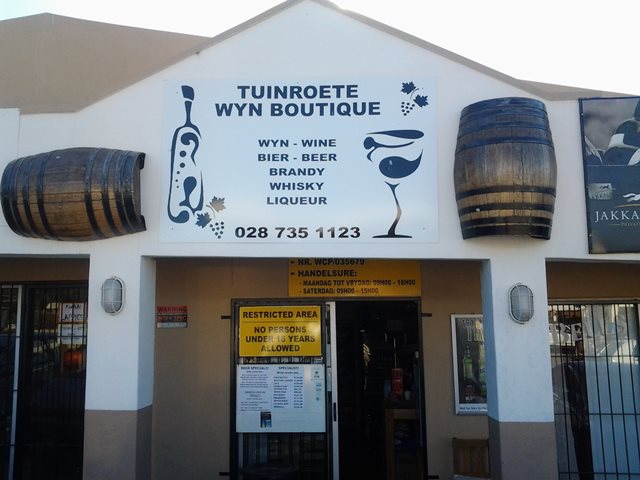 Tuinroete Wyn Boutique – Garden Route Wine Boutique
For a variety of wine, cold beers, favourite spirits and brand name beers, look no further than the
Tuinroete Wyn Boutique. This charming Albertinia liquor store is situated on the N2 and forms a part of
Albertinia Engen and Aloe Motors. This means that you can buy your wood, ice and alcoholic
refreshments for the braai all in one place!
You can find delicious wines from farms all over South Africa and our well educated staff is
always willing to lend a hand in choosing the perfect bottle. Furthermore this bottle store is stocked
with brand name spirits and all of the numerous brands of ice cold beers. Whether you are
planning a trip with the boys or a romantic dinner, "Die Wyn Boetiek" in Albertinia has just what you need.
Next to this wine boutique or Liquor store is a delightful restaurant where you can have light meals or
takeaways. Don't go home without some of their well known - roosterkoeke! Aloe Motors or Engen has a 24hour convenience store. There you will also find some biltong, droëwors, freshly baked Pies and other snacks. Truly, this Engen garage is the one-stop-shop for anyone! So raise your glass and visit the Tuinroete Wyn Boutique when you are on route to CapeTown.

TUINROETE WYN BOETIEK

Met heerlike wyn, yskoue bier en gunsteling hardehout is die Tuinroete Wyn Boetiek in Albertinia op die
perfekte plek om al jou alkoholiese behoefte te bevredig! Jy kan hierdie Albertinia Drankwinkel vind langs die N2 by Albertinia waar dit deel vorm van die Albertinia Engen en Aloe Motors. Hier is ys,
braaihout, lekkernye, petrol en alkoholiese drinkgoed alles op een plek geleë.
Die Tuinroete Wyn Boetiek spog met heerlike wyne van regoor die land, insluitende wyne van
Jakkalsvlei se Private plaas. Die vriendelike en kundige personeel verseker wonderlike diens
elke keer. Verder kan jy al jou gunsteling hardehout, soos whisky en brandewyn, op die rakke
verwag. Die drankwinkel het natuurlik ook yskoue bier en verskeidenheid witblits van die omgewing.
Of jy lus is om saam met vriende te kuier, rustig te sit en ontspan of jou 'n romantiese ete saam
met jou ander helfte te geniet, Tuinroete Wyn Boetiek is daar vir jou! Kom loer in en klink 'n
glasie saam met ons.
31 Station Street (Stasie straat 31)
Albertinia
6695
Boy van Rensburg
Cell: 078 708 9480
E Mail: This email address is being protected from spambots. You need JavaScript enabled to view it.This email address is being protected from spambots. You need JavaScript enabled to view it.">
Vir meer besoek hul Webtuiste direk, kliek hier.