Ankergooi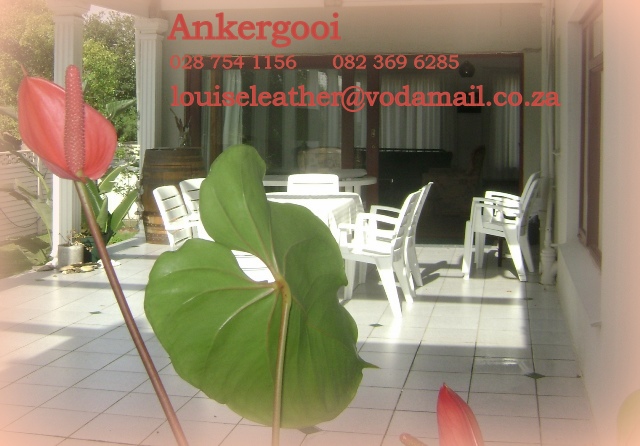 Ankergooi (Self catering, B & B, Bed and Breakfast, WiFi, Selfsorg, Bed en Ontbyt, Gratis Internet)
Ankergooi has been awarded one of the top accommodation facilities in Stilbaai by Stilbaai Tourism.
Ankergooi has a four bedroom house and a two bedroom apartment. The house can be rented as a four, three or two bed roomed unit and the rates will be adjusted accordingly. Bed and Breakfast is also available. Ankergooi is situated in tranquil Little England, one street from the river and close walking distance to the sea and shops.
The house and apartment are fully equipped. The house has a washing machine and dishwasher. DStv is an optional extra.
Ankergooi can sleep one to 12 persons. It is very suitable to accommodate groups. It is adjacent to Serenity and the gate between them can be opened to accommodate bigger groups, up to 18 people. The under cover braai areas makes it the ideal choice for family reunions or birthday celebrations.
Ankergooi offers free wi-fi
Ankergooi
Taaibos Street
Stilbaai
6674
Louise Gerryts
Tel: 028 754 1156
Cell: 082 369 6285
082 852 1318
E mail: This email address is being protected from spambots. You need JavaScript enabled to view it.