Skeiding Guest House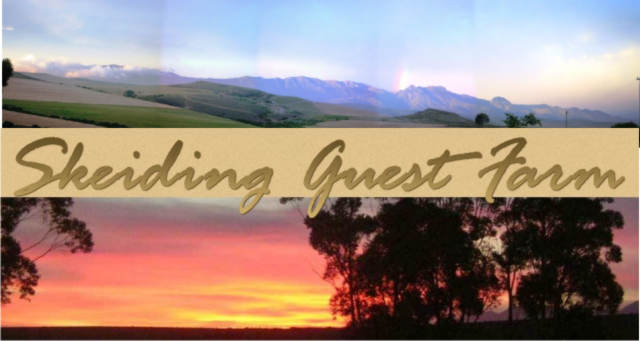 Welcome to Skeiding Guest Farm (Self Catering, Bed & Breakfast )
(Skeiding Gastehuis of Gasteplaas in Heidelberg Wes Kaap. Die Selfsorg of Bed en Ontbyt)
Skeiding is a working ostrich, sheep, Nguni cattle, wheat and canola farm close to the N2 and halfway (250 km) between Cape Town and Knysna. This makes us the ideal stopover or getaway for a longer, relaxing break. A friendly family farm, an education for city slickers, a place to relax and enjoy panoramic mountain views as the farm is situated on high, open rolling terrain. We, Neels and Anné-Lize, are two energetic people who love life ... you need to be to run a farm, family (Anné and Pieter), two dogs (Asterix and Jessie) and a guesthouse in the same lifetime.......................Click link below for more info.
Neels & Anné-Lize Uys
Cell: 082 451 4965
Fax: 086 765 0328
E mail: This email address is being protected from spambots. You need JavaScript enabled to view it.
For more info, click here.