Ingo Berger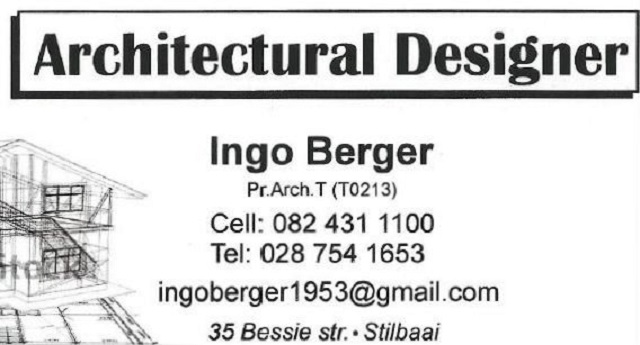 Ingo Berger Architectural Designer (Architect, Draughtsman, House Plans)
House Designs, drawing building plans for municipal approval. Ingo is a qualified and registered Architectural Technologist. He has more than 33 years experience in the building industry for the residential, commercial, light industrial an hospitality sectors.Draughtsman and Space Planning.
He can assist you in the design and drawing of building plans that will suit your needs. Ingo will make sure House plans are ready for municipal approval.

Argitektoniese Ontwerper, Argitek Ingo Berger in Stilbaai
Gekwalifiseerde en hoogs ervare argitek in Stilbaai vir die teken van bouplanne en huisontwerp. Sy ervaring strek oor verskeie sektore soos residensieel, kommersieel, industrieel en so ook gasvryheid.Tekenaar en Spasie ontwerp en beplanning.
Wanneer hy 'n huis ontwerp, neem hy jou begroting asook jou leefstyl en leefwyse in ag. So gee hy dan vir jou 'n volhoubare, gesonde en so ook energiebesparende woning wat inpas by die natuurlike legging en helling van jou erf.
Ingo sal jou ook help met die ontwerp van aanbouings of veranderings aan jou bestaande huis of gebou. Hy sal seker maak dat jou planne gereed is vir goedkeuring deur die munisipaliteit.
35 Bessie Street
Stilbaai
6674
Tel: 028 754 1653
Cell: 082 431 1100