Sparkles Car Wash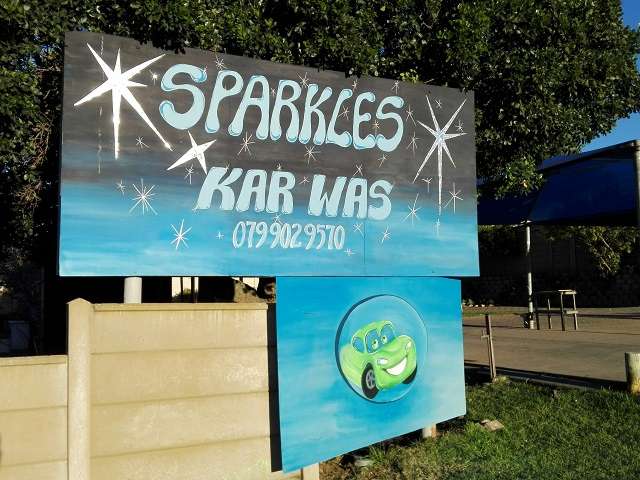 Sparkles Car Wash - Sparkles Karwas Stilbaai (Valet service, Clean cars, Vacuum, Karwas, Motors binne en buite was, Was en Stofsuig motors)
Motor cleaning service for the cleaning and vacuum of vehicles as well as valet service. Motorwasdienste vir die skoonmaak en stofsuig, asook valetdiens vir jou voertuig.
Your vehicle is an expensive item so you need to maintained it as well as you possibly can. Keeping it clean is one part of doing that. Sparkles Car Wash in Still Bay offers a range of cleaning packages for your vehicle, including caravans, bakkies and even boats.
Depending on the cleaning package of your choice, the vehicle will be washed by hand, rinsed and dried with a chamois. The tyres and rims will be cleaned and dressed. They can also do a thorough vacuum of the interior, floor mats and seats as well as the trunk. Likewise they will wash the windows inside and out.
If you so choose, they will wax and hand buff the body of the car to ensure that the wax reaches deep into the surfaces of the paint making it look new again.
Their reliable and friendly staff will deliver spotless results every time. They will make the dirtiest vehicle look new again. When you come back from off-road riding full of mud and dirt, bring the vehicle to Sparkles Car Wash and they will work their magic.
Sparkles Karwas Stilbaai
Jou voertuig is 'n baie duur item en moet dus so goed as moontlik onderhou word. Een deel daarvan is om dit skoon te hou. Sparkles Karwas bied jou 'n reeks skoonmaakpakette vir jou voertuig, insluitende bakkies, karavane en ook bote.
Afhangende van die pakket van jou keuse, sal die voertuig met die hand gewas, afgespoel en drooggemaak word met 'n chamois. Die bande en vellings sal ook skoongemaak word. Ook sal hulle die binnekant deeglik stofsuig. So ook die matjies, sitplekke en ook die kattebak. Die vensters sal ook gewas en blinkgemaak word.
Indien jy dit so kies, sal hulle die bakwerk politoer en met die hand blikvryf sodat jou motor weer nuut lyk.
Main Road West
Just before Engen
Stilbaai
6670
Mariska Rossouw
Cell: 084 350 9194
079 902 9570
Email: This email address is being protected from spambots. You need JavaScript enabled to view it.