IT Zone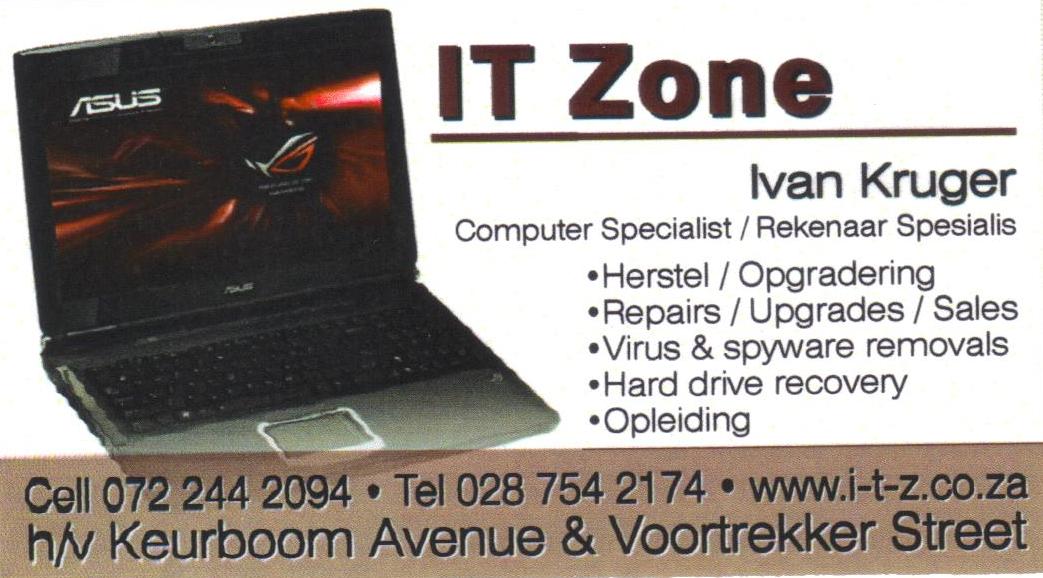 IT Zone For all your computer needs Software and Hardware,
Laptops,Tablets,Pc's The Repair,upgrades and Sales) Rekenaars herstel en verkope, skootrekenaars, Sagteware en Hardeware)
Computer specialists for all your computer needs such as PC repairs, upgrades as well as sales and training, call Ivan Kruger.
IT Zone in essence offers Information technology services such as PC repairs and upgrades as well as laptops like Acer, Lenovo, Dell, Samsung, Asus and Gigabyte, etc. They also assit with hard drive recovery as well as remove viruses and spy-ware from your computer.
In addition they sell computers, various software and hardware, as well as tablets and notebooks. Furthermore they offer training on software programmes. They also do network installations and help you with your Facebook page setup. Ivan is also the official Telkom Agent in the Stilbaai Hessequa area.
In Still Bay,Riversdale, Jongensfontein and the Hessequa area along the Garden Route in the Western Cape.
IT Zone Rekenaars Herstel, Opgradering en Verkope. in Stilbaai
Rekenaar spesialiste vir al jou rekenaar behoeftes soos die herstel van persoonlike rekenaars, opgraderings en opleiding, kontak Ivan.
Hulle bied Inligtingstegnologiese dienste soos herstel en opgradering van rekenaars, skootrekenaars en tablette soos Acer, Lenovo, Dell, Samsung, Asus en Gigabyte, ens. Verder verwyder hulle virusse en spioenware van jou rekenaar en kan jou hardeskyf terugwin.
So ook verkoop hulle rekenaars, verskillende sagteware en hardeware, sowel as tablette en skootrekenaars. Verder bied hulle ook opleiding op sagteware programme aan. Ook doen hulle rekenaarinstallasies en help met die daarstel van n Facebook Page. Ivan is ook die amptelike Telkom agent in Stilbaai.
In Stilbaai, Hessequagebied op die Tuinroete in die Wes-Kaap.
C/o Voortrekker and Keurboom Str
Stillbay
6674
Ivan Kruger
Tel: 028 754 2174
Cell: 072 244 2094
This email address is being protected from spambots. You need JavaScript enabled to view it.