Anne-Bell Geskenke & Dekor Stilbaai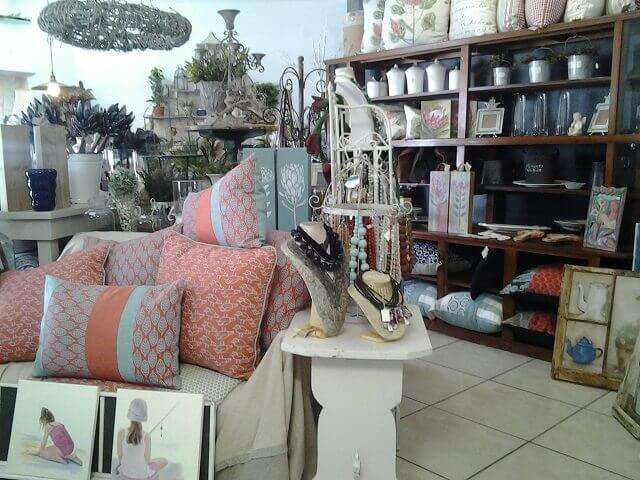 Anne-Bell Geskenke, Dekor, Juwele & Blomstories in Stilbaai - Anne-Bell Gifts & Decor Stilbaai
Oulike nuwe geskenkwinkel, dekorwinkel, juwele en kunsblomwinkel op die Dorpsplein in Stilbaai. Elke item is versigtig uitgesoek en keurig uitgestal in hierdie intieme winkeltjie. Hulle bied juwele, handsakke en serpe aan vir dames. So ook 'n groot verskeidenheid dekoratiewe artikels vir die huis of as geskenk vir iemand spesiaal.
Anne-Bell het 'n voorliefde vir blomme, dus hou sy 'n verskeidenheid kunsblomme aan en so ook vase en potte vir plante. Mettertyd wil sy graag ook vars plaaslike inheemse blomme en fynbos beskikbaar stel.
Kom kyk self, hier wag 'n baie spesiale, vars ervaring op jou.

Swell new shop in Still Bay offering gifts, décor, jewellery as well as imitation flowers. The owner of this small shop has made clever use of her space. Everything in the shop has been carefully selected and displayed in an uncluttered way. The shop is intimate, but not overwhelming, nor claustrophobic. For an unforgettable experience, you need to take time to look at each item. You do not want to miss that perfect gift just sitting there waiting to be noticed.
In the Village Square in Still Bay, a delightful coastal town in Hessequa, Western Cape along the ever popular Garden Route.
Ladies Clothing Accessories at Anne-Bell Gifts & Decor Stilbaai
The way Anneke Doubell describes her shop on her business card hints at a creative and playful, yet sensitive and simple soul. (Geskenke, dekor, juwele & blomstories – Gifts, décor, jewellery & flower yarns) Someone loving beautiful things as well as beautiful wordplay in her language, Afrikaans.
Peruse the selection of jewellery, some bold and loud, some less adventurous, but with a quiet elegance. She also offers selected handbags, some from leather, some from other materials, various sizes and colours. Page through the exquisite scarves – you might just find that colour or colour combination you've been looking for ever since.
Home Decor at Anne-Bell Gifts & Decor Stilbaai
Anne-Bell specialises in graceful, delicate and fragile decorative items on the one hand and more robust, durable and strong decorative items on the other hand. She carries charming porcelain sculptures of female busts and bunnies as well as other porcelain ware. Also pottery items and glassware, including large glass vases and smaller glass vases.
Furthermore there is a neat selection of wall hangings and pictures and paintings of sea birds and proteas, to name but a few. You will find various creative candle holders in different sizes, decorative bird cages, cushions as well as large wall clocks and charming photo frames. Also large tin/enamel jugs, wooden tea trays, various stylish cake stands as well as an exquisite 3 tier cake stand.
Anne-Bell also has a selection of old or antique items such as a scale and various old tin containers for sugar, flour, pepper, coffee and more. She even has some of these round tins (koekieblik) in which grandma kept her home baked biscuits and rusks.
This and many other super items with your name on them, are waiting for you...
Flowers and plants at Anne-Bell Gifts & Decor Stilbaai
Anne-Bell is passionate about flowers, therefore she offers various imitation flowers such as tulips, orchids, roses, St Joseph's lilies and hydrangeas, to name but a few. Also various artificial greenery, small white leafless trees, imitation dried protea flowers, fynbos as well as dried seaweed. She plans to also offer locally indigenous fresh flowers and fynbos in time.
To complement the flowers, she carries a large variety of really big and small vases, big pots for plants as well as smaller plant holders. Images of flowers are repeated on some items such as cushions, gift bags and wall hangings.
Anneke Doubell
Cell: 084 473 4116
181 Main Street West
Village Square (Die Dorpsplein)
Stilbaai
6674