Langeberg Vensters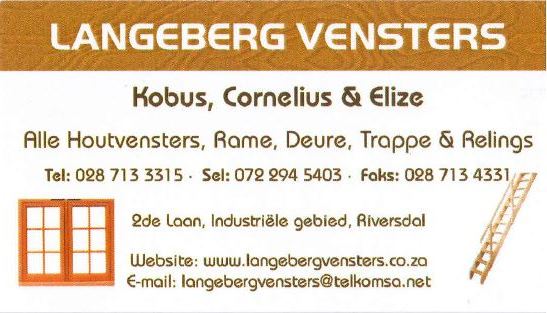 Langeberg Vensters (Houtvensters, Rame, Houtdeure, Houttrappe & Rëelings, Meranti, Ingeboude Kaste, Skaniere en Handvatsels, Wooden Windows & Doors, Wooden Frames, Joinery, Folding Doors, Skirting)
Langeberg Vensters in Riversdal alle Houtvensters, Houtdeure en Houtrelings en Houttrappe.Ingeboude en kombuis kaste .Skaniere en Venster Handvatsels ens, Langeberg Wooden Windows and Doors. Also Wooden Decks,Railings and Stairs. We also do build in cupboards and Kitchen cupboards.
Second Ave Riversdale Industrial Area
Riversdale
6670
Corneluis vd Walt
Tel: 028 713 3315
Fax: 028 713 4331
Cell: 072 294 5403
E mail: This email address is being protected from spambots. You need JavaScript enabled to view it.
For more info,click here.