Jackson Motoronderdele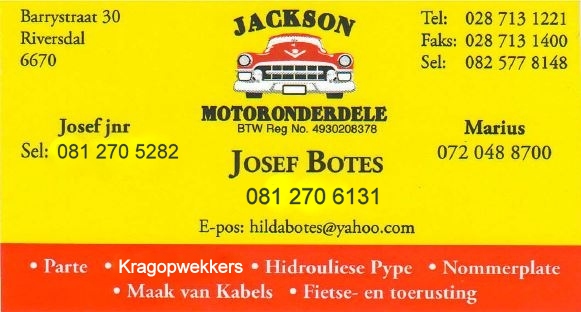 Jackson Motoronderdele Riversdal ( Fietse en Fiets onderdele, Motorradios, Gas, Trekkeronderdele, Kragopwekkers vervaardig Nommerplate ook Hidroliese pype en stelsel)
Jackson Auto Spares in Riversdale (Motor spares and number plates, Generators and Inverters, Hydraulic systems & pipes even Car radios, Bicycles spares, Mountain Bikes)
Jackson Motoronderdele
in Riversdale supplies motor spares, number plates, mountain bikes, as well as bicycle spares. Also generators, hydraulic systems and pipes as well tractor spares.
Jackson Auto Spares
Automotive services selling spare parts and accessories for cars and industrial vehicles such as tractors, trucks and heavy vehicles. They also deal in generators, hydraulic systems and pipes, inverters as well as converters.
Furthermore they make number plates and also cables. They also sell batteries, car radios and other car accessories such as towing cables and jumpers. In addition they deal in gas products, appliances as well as accessories, etc. Also a variety of quality hand tools.
Bicycles and Bicycle spares
Although Jackson Auto Spares deal in motor car parts, they also sell mountain bikes. Also other bicycles as well as bicycle spare parts and accessories.
Jackson Motor Onderdele
in Riversdal verkoop voertuigonderdele, bergfietse en fietsonderdele en -toerusting. So verkoop hulle ook motorradio's, trekkeronderdele, kragopwekkers, hidroliese pype en -stelsels. Verder vervaardig en verkoop hulle nommerplate en ook kabels. Vir al jou fietsonderdele en bybehore. So ook verkoop hulle Willard batterye en handgereedskap.
30 Barry Street
Riversdale
6670
Tel: 028 713 1221
Fax: 028 713 1400
E mail: This email address is being protected from spambots. You need JavaScript enabled to view it.
Josef Botes (Snr)
Cell: 081 270 6131
Josef (Jnr)
Cell: 081 270 5282
Maruis
Cell: 072 048 8700