Hi Way bande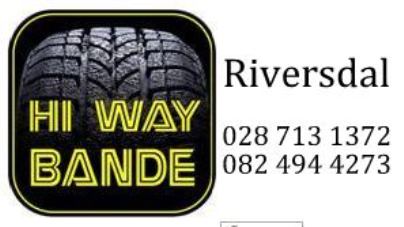 Hi Way Bande - Hi Way Tyres
Suppliers of a large range of tyres, car & truck batteries, shocks and exhausts. Alloy mag wheels, car wipers, tow bars and car or 4x4 wheel suspentions. Wheel balancing and wheel alignment as well as the fix of punctures and free car shock tests. Your one-stop tyre shop. Well known for there great service and prices.
With Hi Way Tyres branches in Riversdale, Albertinia, Heidelberg, Oudtshoorn, Swellendam and Ladismith. Throughout the Western Cape.
Groot verskeidenheid van bande, motor en vragmotor baterye, skokbreekers, motorveërs en sleepstange. Wielsporing en wielbalansering sowel as herstel van bande en motoronderstelle. Selfs 4x4 motors se onderstelle word deur hulle gebou en herstel. beskik oor n groot verskeidenheid van alloy wiele en bande. Jou eenstop bande winkel.
Welkom by die Hi Way Groep
Hi Way Bande strewe daarna om vir jou meer te gee... Meer waarde, meer verskeidenheid produkte en die beste diens. Ons strek van Swellendam, Riversdal, Ladismith tot en met Oudtshoorn.
Kwaliteit is vir ons belangriker as kwantiteit en daarom hou ons verskeie handelsname aan. Michelin, Pirelli, Continental, Bridgestone, Dunlop, Goodyear, Firestone, Yokohama, BF Goodrich, Cooper Tyres ens. wat bande betref en ook handelsname soos Raylite en Exide wat batterye betref . Sien meer onder produkte.
Jou veiligheid is vir ons belangrik! Hou jou en jou gesin veilig deur gereeld vir 'n gratis ondersoek van u voertuig te gaan by die naaste tak aan jou. Verleng die gebruik van die band deur elke 8000 - 10 000km dit te roteer, balanseer en die wielsporing na te gaan. Vir professionele advies besoek vandag nog jou naaste "Hi Way Bande" tak! Sien meer onder Takke.
Volg ons gerus op sosiale media om op hoogte te bly van die nuutste winskopies en promosies.

Ons het jou bande!!!
• Besonderhede van takke:
o Riversdal
 Noel Fourie
 Sel: 082 412 0594
 Tel: 028 713 2211
 Faks: 086 552 8335
 Kerkstraat 16, Riversdal, 6670
E pos: This email address is being protected from spambots. You need JavaScript enabled to view it.
o Heidelberg
 Jacques Snyman
 Sel: 082 494 4471
 Tel: 028 7222 333
 Faks: 086 552 8125
 Eksteenstraat 24A, Heidelberg, 6665
E pos: This email address is being protected from spambots. You need JavaScript enabled to view it.
o Swellendam
 Billy Arpin
 Sel: 082 410 4391
 Tel: 028 514 3798
 Faks: 086 552 8127
 Somersetstraat 60, Swellendam, 6740
 E pos: This email address is being protected from spambots. You need JavaScript enabled to view it.
o Ladismith
 Dietrich Schultz
 Sel: 082 413 2698
 Tel: 028 551 1199
 Faks: 086 552 8130
 Suidstraat 7, Ladismith, 6655
E pos: This email address is being protected from spambots. You need JavaScript enabled to view it.
o Oudtshoorn
 Amour Nel
 Sel: 083 704 9513
 Tel: 044 272 8333
 Faks: 086 552 9404
 Gholfstraat 7, Oudtshoorn, 6620
 E pos: This email address is being protected from spambots. You need JavaScript enabled to view it.
o Albertinia
 Frans de Jager
 Sel: 083 708 1855
 Tel: 028 735 2586
 Faks: 086 552 6372
 Nywerheidslaan 10, Albertinia, 6695
 E pos: This email address is being protected from spambots. You need JavaScript enabled to view it.
o Hoofkantoor
 Tel: 028 713 1372
 Faks: 028 713 4123
E pos: This email address is being protected from spambots. You need JavaScript enabled to view it.

Besigheidsure
o Alle takke is oop Maandag – Vrydag van 07:30 tot 17:00 en Saterdae van 08:00 tot 12:00
o Hoofkantoor is slegs oop Maandag tot Vrydag van 08:00 tot 17:00.
•
• Produkte/ Dienste beskikbaar
o Bande/ Tyres:
o Die band is die enigste kontak tussen jou en die pad, daarom is dit belangrik om te belê in goeie bande. Die vier hoof funksies van bande is:
• om jou kar te ondersteun
• die skok van die pad te absorbeer
• oordra van rem en vastrap kragte
• die verandering van die band hoek stuur die voertuig
o Hi Way Bande is ook die enigste verskaffers van Dunlop- motorfietsbande in die Suid-Kaap.
 Dunlop
 Yokohama
 General Tire
 Good Year
 Bridgestone
 Continental
 Cooper Tyres
 Sumitomo Tyres
 Michelin
 BF Goodrich
 Pirelli
 Firestone
 Falken
 Maxxis
 Nankang
 En heelwat ander handelsname!
o Wiel balansering / Wheel balancing:
 Wanneer die band op die velling gemonteer word, is dit belangrik dat dit eers gebalanseer moet word. Gedurende die balansering van die wiel word die korrekte gewigte toegepas. Dit help die wiel om wanbalans teen te werk. Sodra u oormatige vibrasie waarneem, besoek gerus u naaste Hi Way Bande vir die nagaan van u wiel balansering. Voordele van wiel balansering is minder sluitasie op die voertuig se onderstel en stuur meganisme. Die band hou ook langer en verskaf beter reis genot.

o Wielsporing / Wheel alignment:
 Wat is wielsporing?

o Vellings/ Mags & Alloy Wheels:
 A-Line
 SSW

o Sleepstange/ Tow bars:
 Bosal
 BTM

o Uitlaatstelsels/ Exhausts:
 Bosal
 Tuffex

o Batterye/ Batteries:
 Daar is twee jaar waarborg op meeste van die batterye wat ons voorsien. Swaardiens en "deep cycle" batterye het net een jaar waarborg, motorfietsbatterye slegs ses maande.
• Raylite
• Exide

o Ruitveërs/ Wiper blades:
 Daar is een jaar waarborg op die ruitveërs wat ons verskaf.
• Bosch

o Suspensie / Suspensions:
 Skokbrekers / Shocks:
 Verweerde skokbrekers is nie iets wat met die bloote oog gesien kan word nie- dit word wel gevoel.
Let op na die volgende tekens dat jy verweerde skokbrekers het:
- Vibrasies word op die stuurwiel gevoel;
- Voertuig neus-duik wanneer daar gerem word;
- Kaal kolle op bande;
- Voertuig trek oormatig skeef wanneer wind veral van die sy-kant af waai;
- Oormatige bons op rowwe oppervlaktes;
- Olie sypel uit die skokbrekers;
Daar is drie jaar waarborg op die skokbrekers wat ons verskaf.
• Monroe
• Gabriel
 Remme / Brakes:
• Ferodo
• Safeline
• ATE
• Motopart
Link to www.hiway.co.za